Domestic and international transport of sea containers
Domestic and international transport of sea containers. Just leave that to us! We ship them in all shapes and sizes: from high cube till flat rack and open top containers.
Optimal combinations of transport We use extendable and multifunctional chassis. Therefore we are able to combine different types of transport. Also of hazardous substances and out of size loads.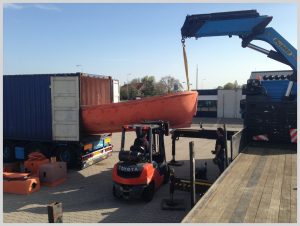 For every transport request a custom solution
By using different kinds of material, including (semi) deep loaders, we are able to offer a custom solution for every transport request.
From and to Rotterdam and Antwerp ports From the Rotterdam and Antwerp borders we drive to Belgium, Denmark, Germany, England, France, Ireland, Italy, Luxembourg, Holland, Austria, Czech Republic and Switzerland e.g.
Oneway transport from and to European inner ports We also take care of one way transport from and to the inner ports of Germany (Duisburg, Cologne and Frankfurt, etc.), France and Switzerland and other countries in Europe.
Experienced drivers Our trucks are driven by experienced drivers that know the routing at the terminals by heart. And off course they are up-to-date according to the most recent guidelines.
24/7 real time information about loads and arrival times By using a smart transport management system and modern communication means we are able to provide real time information about load and arrival time.