Professional transport partner
Since 1992 Verbruggen International Transport has developed from a small-scale carrier into a fully fledged, professional transport partner.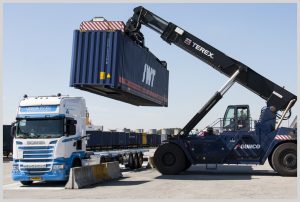 SpecialisedWe are specialised in domestic and international sea container transport, special transport (hazardous materials and oversized cargo), storage and transshipment and customs formalities.
Ports of Rotterdam and AntwerpFrom the ports of Rotterdam and Antwerp we drive to and from many countries including Belgium, Denmark, England, France, Ireland, Italy, Luxembourg, the Netherlands, Austria, the Czech Republic and Switzerland, among others.
One-way transportWe also provide one-way transport to and from inland ports in Germany (Duisburg, Cologne, Frankfurt, etc.), France, Switzerland and other European countries.
Smart solutionsWe work together with a team of experienced and qualified employees, both at the office and on the road. This means that you can expect smart solutions from us.
Attention to health, safety and environmentAttention to health, safety, and environment is integrated into our business management. We continuously strive to optimise these aspects at all levels of our organisation.
Modern equipment that is flexible in useWe write "Resilience", "Inventiveness" and "Motivation" with capitals. Our equipment is modern and flexible in use and we utilise smart IT-applications.
Transparency and cooperationBut current developments ask for more: sustainability, transparency and cooperation within the chain. In order to think collectively about fast, green, safe, and affordable transport.
Tailored customer solutions at a competitive priceThat's why we join forces with our clients and partners. That way we lay the foundation for tailored customer solutions at a competitive price. Now and in the future.